The Desktop Skin
The Desktop skin is the default if you're accessing RompЯ from a browser on a desktop computer or laptop.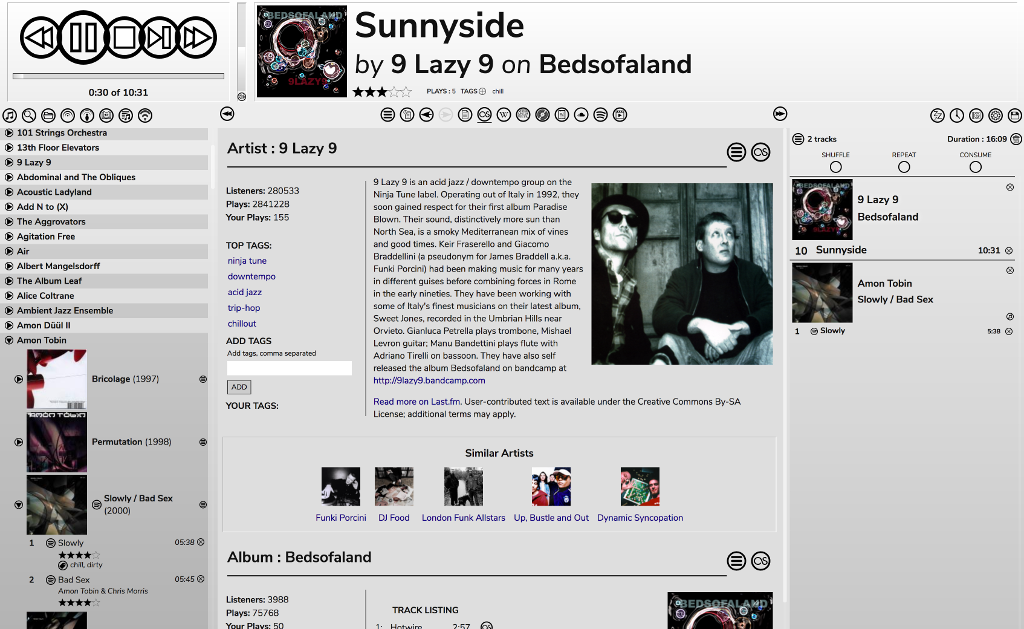 At the top left are the play controls. These are (left to right)
Previous Track
Play/Pause
Stop
Stop After Current Track
Next Track
Next to those is a vertical slider which is the volume control. The icon underneath it is a mute button when you're using Mopidy or using mpd with only one audio output. When you're using mpd with multiple audio outputs this button opens a menu allowing you to enable or disable the outputs.
Next to those is the Now Playing panel. This shows information about the currently playing track - the album image, track title, album name, and artist. Also the Rating, Tags, Playcount, and a Last.FM 'Love' button if you're logged in to Last.FM.
Underneath that on the left is the Music Sources panel. You choose different sources using the icons at the top. These are (left to right):
In the centre is the Info Panel. The icons across the top are (left to right)
Open Drop-Down-Menu of plugins - this is where things like the Ratings and Tags manager, Playlist Manager, etc can be found
History
Back (Info Panel)
Forward (Info Panel)
File Information
Last.FM Info
Wikipedia
Musicbrainz
Discogs
Lyrics
Soundcloud
Spotify
Youtube
On the right-hand side is the Play Queue. Above that are various tools. These are (left to right):
Configuration Menu
Save Play Queue as a Playlist
The lower panels can be resized by dragging their edges, or hidden using the 'double arrow' icons.